Hello there. So, i decided to do something because...why not? Whit season 4 in the works, i decided to see that who would be the next big bad of the 4th season. Also before i say anything i want to get few things out of the way, I will be only looking at Antagonists (Obviosly) So don't expect Older Rosen or others good guys to appeare here. I will be only looking at the TRFC episode & series, i won't be using any characters outside of this series. Also...spoiler alert, a lot of them since we are talking about the big bads who are sometimes very important to the story. (Note: This is only a prediction/theory so there is a huge chance that i am wrong) Also, this is little bit short.
Whit that out of the way, let's who will not be the antagonist (Most likely)
1: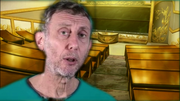 Jack
Now, this should be obvious for multiple reasons. For once, he really has not done that much in the series. (Only making a cameo appearenc in Michael's other horrible hallowen & he made a full appearenc on Michael's 1st horrible halloween) Also, he is in prison so it is very likely that we won't be seeing him for a long time. Also, we don't know that much about him.
2: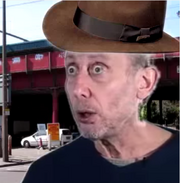 The Presents Inspector
Okay let me explain. While he is not the most goodest guy around the series, but he is not the most baddest. Also, he seems more like a goon/minion then a leader. Even when he tries to be evil, he fails pretty miserably.

Now whit this 2 out of the way, let's who will most likely be the antatgonist.
The Pocketfoogle

There are multiple reasons why he could be the big bad of season 4. He has the motivation, he has the powers & feats. So there is a chance of this guy becoming the main villain, there even could be a tiny chance that he could team up whit Abdul in order to accomplish his revenge against Michale Rosen.

(To be continued...)