A couple of musicians have made appearances in The Rosen Family Chronicles. Here is some brief information on the ones that appeared in person.
Orbital
[
]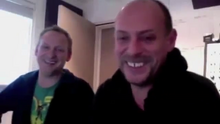 Orbital consist of brothers Paul Hartnoll (left) and Phil Hartnoll (right). They are well known as being one of the pioneers on the 90s rave music scene in England, but also one of the most influential names in live electronic music, as well as being 256Pi's favorite band.
Fittingly, they are the band that appears in this show the most, with a total of three appearances to date. First they were interviewed on Don't Be Cheeky, in which Paul showed off a demo of their song "Distractions" (which had been recently released in full on their album, Wonky). Brian tried to blame Phil on stuffing a rat in his arse, although given the interview was done via webcam this was obviously not possible. Orbital also made small cameo appearances in other Rosen Family Chronicles episodes. First they appeared in Augmented Reality Rog's elaborate drug trip near the end, talking about getting drunk and ordering curry, and they later appeared on the show to perform their song "Don't Stop Me" completely out of context during one of Older Rosen's adventures.
BT
[
]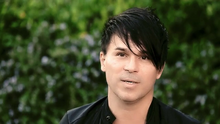 BT is the stage name and initials of Brian Transeau. BT has made longtime efforts to be a pioneer and a game-changer in the world of electronic music, stretching his talents from trance to IDM to pop to ambient and more. He appeared on Don't Be Cheeky once to promote his then-upcoming project Electronic Opus, which at the time had just been sufficiently funded via Kickstarter, although for some reason he tried to pass off the project as a little paper umbrella. He also performed a demo of the Electronic Opus remix of his song "Flaming June", which Brian seemed to find overly loud, causing him to briefly exit the studio. No mention was made of him and Brian sharing the same first name.
Basement Jaxx
[
]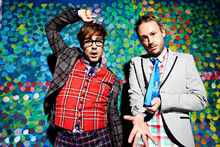 The Basement Jaxx are a veteran house music duo consisting of DJs Felix Buxton (on the left) and Simon Ratcliffe, usually employing the help of several guest singers in their songs. Although the two haven't made a personal appearance on The Rosen Family Chronicles, many of their regular guest singers (including Sharlene Hector, Vula Malinga, Lisa Kekaula and Brendan Reilly) were seen at 24/7 Soul Guard Dot Cum, the dance club that Augmented Reality Rog visited in heaven. They performed their kinda-hit song "Romeo" there in combination with a live symphony orchestra. Rog mistook their singers for Vietnamese beauties, but he was awoken back into reality before anything came of it.
Appearances
[
]