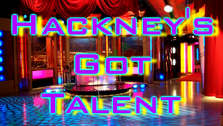 Hackney's Got Talent was a talent show hosted by Michael Rosen. The show was done in very similar manner to shows such as Britain's Got Talent (hense the name), in which contestants had to perform an act and the judges score them out of ten. I think you can guess if the show ran without any technical faults or not...
History
[
]
The show appeared in the episode of the same name, as an idea proposed by Mervin to Michael, who eventually agrees to host it despite him not liking talent shows (they are "all slimy" according to him). The judges are Michael himself, Brian, Harrybo and Older Rosen. The contestants consisted of Tim Rowett, King Harkinian, Harrybo (though him taking part wasn't originally planned) and Mark Sabine. Older Rosen's scoring would become a frequent issue throughout the series, with him nearly always scoring the acts 7 and 3/4 no matter how good/bad the act was (though when the act was actually great in Mark Sabine's case, he gave it only 3 and 3/4 coz that makes sense...) Despite this, the show run somewhat smoothly for their standards with Mark and Tim progressing to the next round.
However Michael was becoming less happy with presenting it and attempted to quit hosting the show, but he was convinced to finish off the series in the following episode due to how popular the show was with viewers. In the final episode the contestants were Tim, Mark, The Chuckle Brothers and the King and Zelda. Despite Older Rosen once again giving bad scores (in this case even scoring them as words) and Mark and Tim getting wrestled to the ground, the episode finished with the King and Zelda being crowned series champions.
After this the show was controversially cancelled despite it's popularity, but it was revealed in the next TRFC episode that Michael had struck a deal with Mervin to replace the show with something else once the series was over - which resulted in The Michael Rosen Movie being released in cinemas afterwards.
Personel
[
]
Michael Rosen - presenter / head judge
Brian Rosen - judge
Harrybo Scheddle - judge
Older Rosen - judge
Mervin Scheddle - series producer
Tim Rowett - contestant
Mark Sabine - contestant
King Harkinian - contestant
The Chuckle Brothers - contestant
Zelda - contestant
Mayor Kravindish - cameo
Kanye West - cameo